Pubs and Hotels
The Clifton Arms Hotel was first erected in about 1794 on Clifton Street, in the space that is now Park Street. Its successor, (a two storey building) was built in 1840 on West Beach. In 1875 all buildings comprising the hotel were raised to the same height and sold on to a private company.
By 1897 the Ship and Royal was being referred to as 'the newly-built' hotel, situated in its present position on Clifton Street.
The County and Commercial Hotel was built on the site of the Market Hotel and the Commercial Inn on Church Road. It was flourishing in the 1900s.
In 1857 the Bath House building on East Beach was demolished and the 'Neptune Hotel' was erected in its place. This was later changed to Queen's Hotel. For a short period it was given the name Rat and Parrot. Now the name has been restored to The Queen's.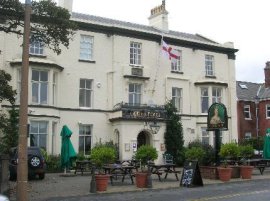 The Talbot Hotel, Clifton Street was built between 1850 and 1870. In 1873 the license was granted to a certain Charles Brewster, who took over from Alexander Seed. In 1900 the Bath Street entrance was being used as the order office, under landlord Cornelius Salthouse, and this remained as the recreation room, until the major refurbishment during the 1980s. Now converted into a shopping complex.
Catterall and Swarbrick erected the Railway Hotel on Station Road, at the side of the original Lytham Station. Later the name was changed to the Hansom Cab with the change of brewer.